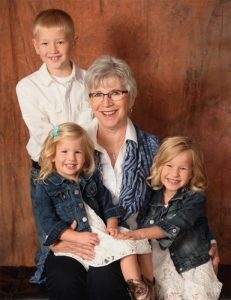 Nancy Dieleman
When you love kids, fabric, and imagination, it's amazing what you can create. I come from a long line of talented seamstresses. My grandmother made wedding dresses, and my mom sewed most of our clothes growing up. But my love of sewing took a little different road—maybe the road less traveled—and that has made all the difference.
It started over 30 years ago when my sister and I took a class making jointed teddy bears—and we've been playing and creating ever since!  We love toys of all kinds, especially if we can sew them. After my grandchildren came along, I realized that little kids should have little pillows. So I started making my own. I soon found there were lots of kids looking for little pillows. I began to research the perfect little pillow and found a company in the US that would make them to my grandkids' specifications…just their size with the right amount of stuffing. Then I began to make lots of little pillow cases in cozy, playful flannels. I made so many that this turned into Kids Pillow Co. This brought about a whole new line of kid-sized pillow cases, fitted crib sheets, fitted pac'n play sheets, baby blankets and matching quilts…mostly in flannels. Because let's admit it, we adults love our flannel sheets…and so do kids.
My sister and I have combined our love for toys, fabric and sewing into our new website Kids Pillow and Play. Making kids of all ages smile is our mission…and that's why we play!
Shirley Kruse
Somewhere, not far away, there are children who know just what to do with my tents and toys. Imagination will replace a manual. Intrigue will follow their creativity into one amazing adventure after another. If you are lucky, you might catch the kite string and ride along for part of their playful journey.
Looking back, I've always been a toy maker at heart.  From classic dolls and animals, to silly toys inviting learning and imagination, nearly any material held hidden potential. Creating and designing toys is still one of my favorite hobbies.
Now with grown children and new grandchildren, the love of the creative process and the delight in watching children's imagination continues to intrigue me. Perhaps its because I'm still a kid at heart…or maybe it's just in my genes. I did come from a long line of sewers and tinkerers; and my kids are engineers and product designers (who also tinker, sew and create).
I made my first teepee about 17 years ago. A few years back, they re-captured my attention and soon special requests and orders followed. I have a sign in my sewing room that says, "if you need me, I'll be in my teepee." It just sort of fits for now!